Zion Stone & Marble
Tile Company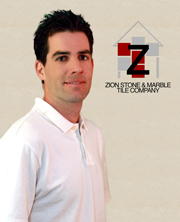 My name is Gilbert Cruz, I am the owner of Zion Stone & Marble Tile Company. For years, my company and I have been providing south Florida with the finest bathrooms, flooring, pool decks and kitchens. Our specialty is in our name, that's right, Stone, Tile and Marble. We have certified employees attending our job sites providing you with the best service possible, from material to installation to communication. Zion Stone & Marble Tile Company is Licensed (#10BS00149) and Insured.
After working in several high quality projects, such as high-end propertys in Miami Beach, Boca Raton and West Palm Beach, where the details of these projects were highly required, I developed a technique to perfection and quality, then decided to start my own business.
In 2003, I opened my own company for installation of tile, stone and marble, and since then I have acquired a great reputation for quality and trust, where I worked for decorators, designers and general contractor as well.
© 2000-2011 Zion Stone And Marble. All rights Reserved